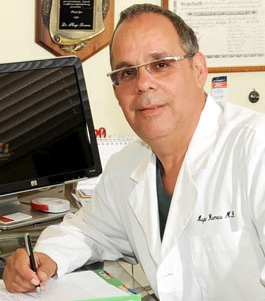 LAS VEGAS, Oct. 29, 2018 (GLOBE NEWSWIRE) — Rimrock Gold Corp. (OTC Pink:RMRK) (the "Company"), is pleased to announce that its Board of Directors has appointed Dr. Hugo Romeu to the Board of the Company.  In addition, Dr. Romeu has been appointed Chief Operating Officer of Acqua Cannabis Corp ("Acqua"), a wholly-owned subsidiary of the Company.
Dr. Romeu is a Board-Certified Physician in the State of Florida.  He's an internationally published author and a pioneer in pharmaceutical research with over 37 years of trailblazing experience.  He's completed 704 Clinical Trials for 102 different pharmaceutical companies. His foremost expertise is in introducing new medicines and products into the industry.  He's known as the alchemist who transforms stressed companies into profitable businesses.  Romeu will be heading the research and development of new Cannabis derived drugs for Acqua Cannabis.
"I am very pleased that Dr. Romeu is joining our team, both as COO of Acqua and as a Director on the Board. This strategic partnership will bring to market an array of products which will be distributed through his current infrastructure." stated Jordan Starkman, Rimrock Gold's CEO. "Dr. Romeu has a proven track record of leading teams to success by achieving growth and profitability. With 37 years of operational and management expertise, Dr. Romeu's experience will be invaluable as the Company continues to execute its growth strategy."
Certain statements in this document that are not historical facts are "forward-looking statements" within the meaning of the Private Securities Litigation Reform Act of 1995.  Such statements may be identified by the use of words such as "anticipate, "believe," "expect," "future," "may," "will," "would," "should," "plan," "projected," "intend," and similar expressions.  Such forward-looking statements, involve known and unknown risks, uncertainties and other factors that may cause the actual results, performance or achievements of Rimrock Gold Corp. to be materially different from those expressed or implied by such forward-looking statements.  The Company's future operating results are dependent upon many factors, including but not limited to: (i) the Company's ability to obtain sufficient capital or a strategic business arrangement to fund its current operational or expansion plans; (ii) the Company's ability to build and maintain the management and human resources and infrastructure necessary to support the anticipated growth of its business; and (iii) competitive factors and developments beyond the Company's control.
For more information, please contact:
Rimrock Gold Corp.
Jordan Starkman, President
1-800-854-7970